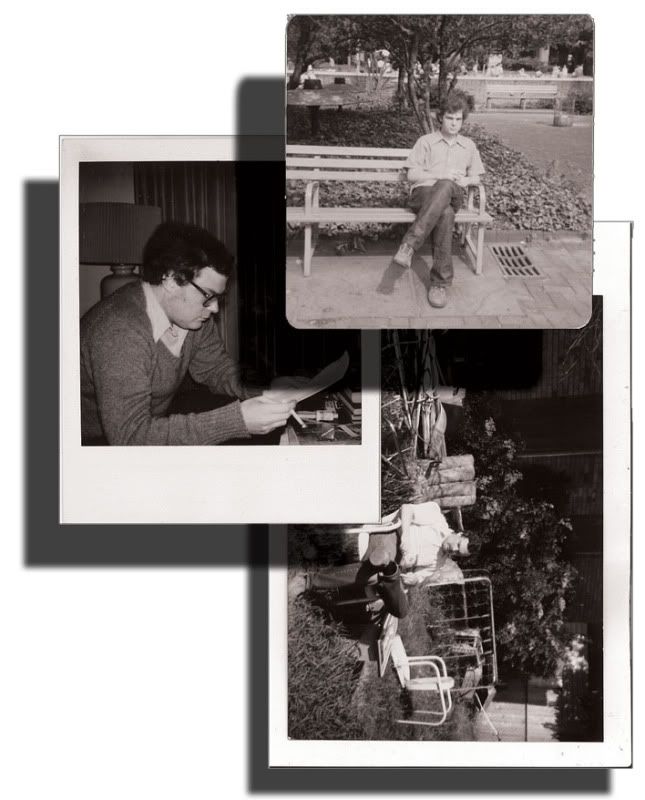 Ray Hinman:
Born in Dallas Texas, along with his twin brother Joe, June 20, 1956. Their Uncle was James D. Harman noted "Beat" poet of the 50s and leader on the West Coast in the "ban he bomb movement." "Uncle Jimmy" as we was called as an influence upon his nephew's style of poetry, along with Wallace Stevens, Yates and Keats.
Hinman grew up in Dallas, he drooped out of R.L. Turner High school his sophomore year in order to receive his GED that same year. He lived on his own for a time, traveled extensively across the United states by hitchhiking. On one trip he went up the West Coast to Vancouver and another trip he went up the East Coast to Montreal. He also spent extensive time camping and living off the land in the American Southwest.
He attended The University of North Texas, studying anthropology. He was a major local organizing in the Central America Movement of the 80s. He worked as an editor for the Negations Institute and their Academic Journal
Negations.
Throughout the years he has published poems in many journals and other publications such as
Interstate
,
Well Spring
, the
Ameba
,
The Word
,
Fickle Muses
and other such publications. He's read his poetry in public in Austin and Dallas.
(more on Ray Hinman)
Born:
Dallas, Texas, 1956, with his twin brother Joe.
Education:
University of Texas At Arlington, University of North Texas (Denton)
Occupations:
Market Researcher; Paid campaign worker; poetry editor (Academic Journal Negations) and fellow of Negations Institute.
Life Experience:
Mr. Hinman has lived in Dallas, Arlington, and Austin Texas. He's traveled extensively around North America, Mexico, and Central America.
1970's
In the early 70's, as a highschool sophemore Mr. Hinman worked as a volunteer in for the McGovern Campaign in the senator's 1972 Presidential bid. As a young man he hitchhiked from Dallas to Colorado. In a Second trip, up the West Coast to Van Couver. In a Third trip, hitchhiked up the East coast to Montreal. He also Attended University of Texas at Arlington.
1980's
lived in Dallas and Austin. In this decade he travailed in Mexico. It was in this decade that he had his career as a Market Researcher in Dallas,Paid campaign worker in Austin, and attended University of North Texas in Denton. From about 86 to 90 a major portion of his life was occupied with volunteer political organizing over the issue of Central America. Mr. Hinman worked with the infamous CISPES group (Committee in Solidarity with the People of El Salvador) of Dallas which is known to have been spied upon by an FBI informant, and Mr. Hinman may have been target of surveillance.
1990's:
Mr. Hinman worked in the anti-Gulf War coalition in the early 90's. He settled in Dallas and began to work for the Negation Institute, first as the contributing Poetry editor for their journal Negations, then as researcher. In the late 90's he spent several years providing full time care for his parents until their deaths.In the 90's that he wrote some of his best work.
After the death of his parents, Mr. Hinman withdrew from society and lived a reclusive existence devoted to study.
Ray died of a massive heart attack on Jan 24, 2014. He was57.
Publications:
InterstateThe AmoebaWell SpringBalconesNegations: an Inter disciplinary Journal of social CriticismA Rule of Three
(chapbook).